Not Of This World: Transcending Reality in Photography
3/20/2018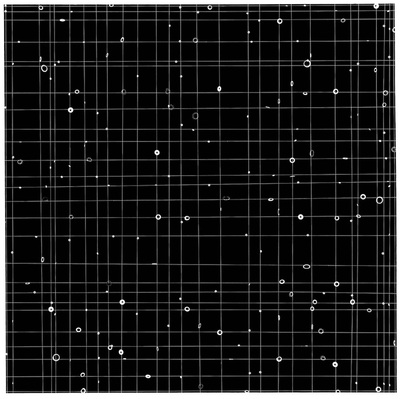 Rick Wester Fine Art

Not Of This World: Transcending Reality in Photography

Christopher Colville, Lynn Dunham, Willie Osterman, Aaron Rothman, Bjørn Sterri, Claire Warden, Tenesh Webber

Opening Reception - March 29, 2018, 6-8 PM

Dates: March 22 - May 25



526 W 26th St, Ste 417, New York, NY
---
Four Weeks and Forty-Five Years
8/24/2017
A.I.R. Gallery

155 Plymouth Street, Brooklyn, NY 11201

H: Wed-Sun, 12-6pm
T: +1 212 255 6651
E: info@airgallery.org

Rachel bas-Cohain, Christine Gedeon, Kazuko Miyamoto, and Tenesh Webber

Curated by Roxana Fabius and Rachael Rakes

September 20 - September 24, 2017

Public Programs

September 23, 3 pm: Conversation between Nova Benway and Tenesh Webber


A.I.R. initiates its 45th season with a series of micro-exhibitions, each dedicated to a work or small set of works from a single artist who has been part of the gallery's history. Running from September 7th until October 8th, each week will see the gallery reoccupied by a past A.I.R.-associated artist whose work deserves a closer look. Several discursive events will accompany the month of exhibitions.
---
Interference - Group Exhibit - Bullet Space, NY. NY.
8/16/2017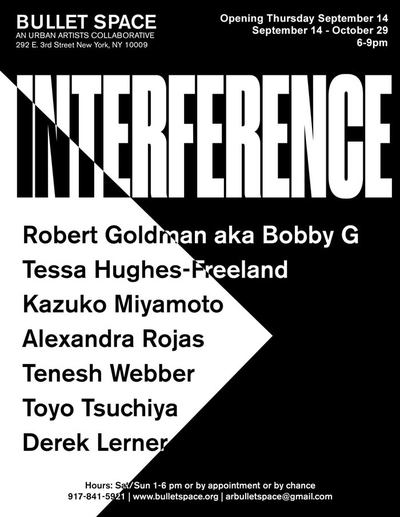 September 14th- October 29th, 2017

GALLERY HOURS:
---
Intercontinental Line - Group Exhibit - Abstract Project - Paris, France
4/12/2017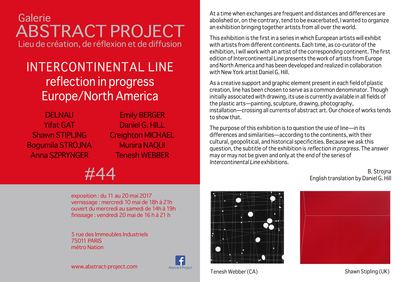 An international exhibition of artists from Europe and North America taking place at Galerie Abstract Project in Paris, 10–20 May, 2017.

5, rue des Immeubles Industriels, 75011, Paris (metro Nation)
vernissage: mercredi 10 mai de 18h à 21h
ourvert du mercredi au samedi de 14h à 19h
finissage: samedi 20 mai de 16h à 19h

DELNAU (FR), Emily BERGER (US), Yifat GAT (IL), Daniel G. HILL (US), Creighton MICHAEL (US), Munira NAQUI (US), Shawn STIPLING (UK), Bogumila STROJNA (FR/PL), Anna SZPRYNGER (PL), Tenesh WEBBER (CA)

At a time when exchanges are frequent and distances and differences are abolished or, on the contrary, tend to be exacerbated, I wanted to organize an exhibition bringing together artists from all over the world.

This exhibition is the first in a series in which European artists will exhibit with artists from different continents. Each time, as co-curator of the exhibition, I will work with an artist of the corresponding continent. The first edition of Intercontinental Line presents the work of artists from Europe and North America and has been developed and realized in collaboration with New York artist Daniel G. Hill.

As a creative support and graphic element present in each field of plastic creation, line has been chosen to serve as a common denominator. Though initially associated with drawing, its use is currently available in all fields of the plastic arts—painting, sculpture, drawing, photography, installation—crossing all currents of abstract art. Our choice of works tends to show that.

The purpose of this exhibition is to question the use of line—in its differences and similarities—according to the continents, with their cultural, geopolitical, and historical specificities. Because we ask this question, the subtitle of the exhibition is reflection in progress. The answer may or may not be given and only at the end of the series of Intercontinental Line exhibitions.

B. Strojna
English translation by Daniel G. Hill


---
Members Invitational, NEW YORK ARTISTS EQUITY GALLERY
11/19/2016
December 9, 2016 – January 14, 2017
Equity Gallery
, 245 Broome Street, NY, NY 10002
Opening Reception:
Friday, December 9, 6–8pm
Gallery Hours:
Wednesday to Saturday, 12–6pm, and by appointment

The 11 artists selected for the Members Invitational are James Buxton, Vicki DaSilva, Sharon Florin, Ambre Kelly, Leni Liftin, Alan Neider, Kambui Olujimi, Josef-Peter Roemer, John Tomlinson, Tenesh Webber and Deborah Winiarski. The exhibition will feature paintings, prints, sculptures and photography.

Equity Gallery is pleased to announce the Members Invitational, an annual juried group exhibition featuring the work of Artists Equity members. The exhibition will be on view from December 9, 2016 through January 14, 2017, with a public opening reception on December 9, 6-8pm.

The work was selected by the following jurors:
• David Clements, Associate Director, Tanya Bonakdar Gallery
• Jill Conner, Art Critic, Curator and Founder of AS | Artists Studios
• Emie Diamond, Founder of The Curateur Collective
• Peter Gynd, Artist, Independent Curator and Director of Lesley Heller Workspace
• Emily Lenz, Director of D. Wigmore Fine Art

Artists Equity was founded in 1947 by over 160 leading American artists to promote opportunities for visual artists and to address business and economic issues affecting them. In this exhibition, we celebrate today's artist-members through a diverse selection of outstanding work.


---
Reunion - QUADART DORBIRN - 4 PERSON EXHIBIT
10/19/2016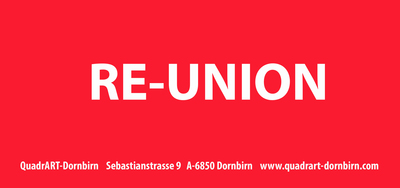 QUADART DORNBIRN, Dornbirn, Austria

Opening - November 12, 2016

Exhibition dates: Nov 13, 2016 - February 12, 2017
---
BOS
5/29/2015
Bushwick Open Studios 2015

My Studio will be open:

Saturday/Sunday June 6/June 7 12-7 PM

347 Troutman Street

Brooklyn, NY, 11237
Email: twebber88@yahoo.com